Shower room
Hi Jon, just used new shower room, the first time for me! Looks wonderful and works brilliantly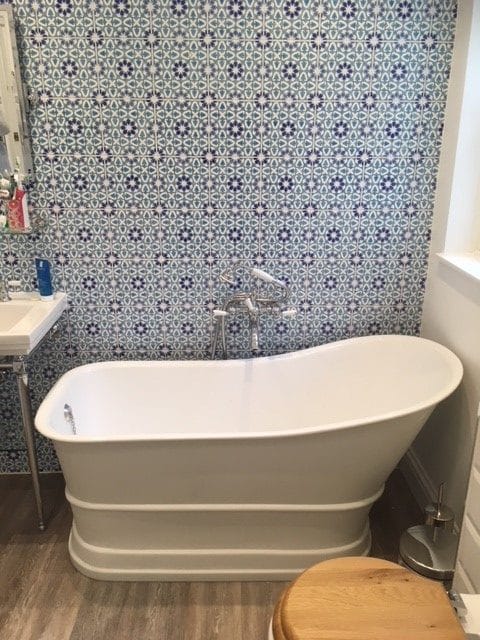 Bathroom Bespoke refurbishment
"I can't thank Chessington Pipeline enough for creating and building our amazing bathroom. Jon was so helpful and guided us throughout with all our decisions, helping us to create a family bathroom that is both practical as well as beautiful. He and his team were able to give advice on the practicalities as well as design elements. The team have done an amazing job and we are really pleased with the final result and the attention to detail. All the trades/craftsmen that came and fitted the bathroom were clearly experts in their field, as well as being very easy to work with. The house was kept clean and tidy and there was very minimal disruption. They were a very easy company to work with and I highly recommend them to anyone who wants a quality fitting. Thank you everyone at Chessington Pipeline, you were all fantastic! S & S Overy"
Bathroom refurbishment
I have been very pleased with the Bathroom refurbishments by Chessington Pipeline. I would like to particular thank Jon who has helped me from start to finish and has created stunning bathrooms for my clients. Everything was so much easier with him. Jon and his team are a reliable, trustworthy, prompt and puntual. They have always delivered what they promised and it has always been top quality work. I highly recommend Jon and his team to carry out any work that you need." Judit Hollo - Designer - South London
Installation of new bathroom
Very efficient and polite team who did an excellent job. The work was of high quality, they liaised with the bathroom supplier on my behalf, my house was left clean and tidy throughout the work. I would definitely use them again.
Installation of a new shower room
Very impressed, would recommend the company without any hesitation or qualification.
Bathroom re-build and re-furbish
Every trade done to a high standard. e.g. plastering, plumbing, brickwork, tiling decorating. Well supervised, polite and pleasent workers, clean too.
Bathroom and utility room remodelling
Excellent design and workmanship. Delighted with the end result. Every member of the team is professional and worked to the highest quality.
Bathroom refurbishment
Excellent service, high quality work, top drawer tradesmen.